We specialize in supporting artist-led productions and creating thought-provoking short films about art and creative practice that provide insight into process and the nature of visionary thinking.
Working with museums, artists, and nonprofits, we collaboratively develop narratives that illuminate ways of being in and seeing the world through people and their elevated voices. Our work is driven by ideas and the deep thinking of our subjects and collaborators to articulately elevate voices around the creative act.
To the artists: we'll make you sound brilliant because you are. We will hone in on the right words (and the best visual material) to weave together a window into your work.
Our production method places an emphasis on research, writing, and collaboration from ideation to completion. In our experience, an open communicative environment provides the best foundation for capturing artists at work. We also provide various forms of production support to artists working in moving image to fully realize their vision; or simply to manage video and audio documentation of projects to support portfolio, exhibitions, performances, and practice.
Selected Projects
Below are selection of short artist and exhibition films showcasing our ability to transform long-form artist interviews into compelling short narratives.
Exhibition documentation
During the pandemic the doors of many museums were forced to close their doors temporarily. We built upon our already nimble international remote production methods to support the production of exhibition tours to provide access to visitors from their home, and in turn captured video records of curatorial work.
Who is behind the scenes?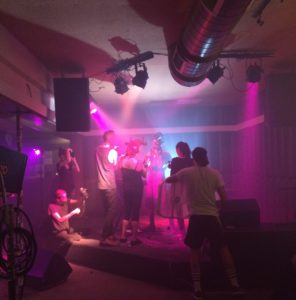 Anna Chiaretta Lavatelli, the owner and producer behind Solid Pink Productions, has worked with moving image for the past 20 years, from small-gauge experimental film to cinematic digital productions. She also has over 15 years of experience working as a museum technologist, film director, editor, and cinematographer–a regular Jacqueline of all trades. Her extensive experience working with living artists throughout her career has supported the creation of original content that illuminates artistic practice and intellectual processes of the most important artists and thinkers of our time.
Lavatelli's first video was a short film captured on VHS and edited on a JVC linear editing system after hours at Hallwalls Contemporary Arts Center in Buffalo, New York. She continued working with video and film, developing an art practice while gaining a BA in Media Studies and an MFA in Visual Arts. Alongside her experimental film and video practice she developed a career as a museum technology professional working as a technician at the Guggenheim Museum in New York, later as the Associate Director of Digital Media at the Balboa Park Online Collaborative, and, before striking out on her own, as the Director of Digital Media at the Museum of Contemporary Art Chicago.
At MCA Chicago she managed and developed digital content and platforms, including the creation of dozens of short documentary films, the redesign of mcachicago.org, and over a half dozen websites to support contemporary art scholarship and visitor engagement with artists and exhibitions. During the website redesign, she also made a commitment to accessibility and co-founded the Coyote Project to make artwork accessible to people with low or no vision through description and support the development language for describing our world. She continues to prioritize methods to make productions accessible, inclusive, and generous.
In 2019, Lavatelli founded Solid Pink Productions to bring her range of expertise and extensive talent network to projects across genres, ranging from documentary productions to sci-fi noir comedies.
Work in Production?
We work with production crew around the world and are constantly expanding our network. Woman-owned and operated, Solid Pink Productions is a supporter of those who have been marginalized by the film and video production industry. We are committed to hiring the best talent while prioritizing the hiring of people from communities and backgrounds that are underrepresented in the film and video production field. If you work in film production (sound, camera, post) please feel free to email us; share your reel, tell us about yourself, and what kinds of projects make your work shine.